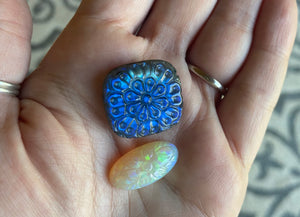 Deposit on handmade jewelry featuring client provided gemstones. 

~Carved Opal necklace with an EW orientation, chain length to be determined by client. Estimate: $115-$125
~Carved Labradorite pendant (with yellow flash towards the top) Estimate: $95-$105 
Deposit: $50, remainder upon completion 
Stone provided by client:
Disclaimer & Agreement
I am willing to take a look at a customer's stones and determine if they are of the type and quality I usually set. I may choose not to set your stones based on this and will return them. If I choose to set your stone, you must be aware that stones are all different and some may have fractures or weak spots that are not apparent to the naked eye. Each stone is different and is case by case. If your stone fractures during the creation of a piece, you agree not to hold me liable, and I will return the broken stone and your initial deposit.