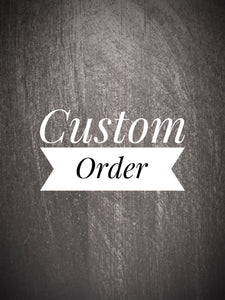 Reserved:Please do not purchase unless you are the intended client, thank you! 
Deposit on two handmade rings, and sterling silver rose stud earrings. 

*Lavender turquoise set in a crisp fine silver bezel with a smooth sterling band with a central groove. <$95>
*Black Onyx & Moonstone set in crisp fine silver bezels, with a hand stamped confinement framin the top Onyx, and handmade fine silver bead clusters, with a smooth sterling split shank ring band. <$130>
*Sterling silver rose stud earrings <$22> 

-Both rings to fit a size 8.5-
Stones provided by client.
Stone provided by client agreement: I am willing to take a look at a customer's stones and determine if they are of the type and quality I usually set. I may choose not to set your stones based on this and will return them. If I choose to set your stone, you must be aware that stones are all different and some may have fractures or weak spots that are not apparent to the naked eye. Each stone is different and is case by case. If your stone fractures during the creation of a piece, you agree not to hold me liable, and I will return the broken stone and your initial deposit.