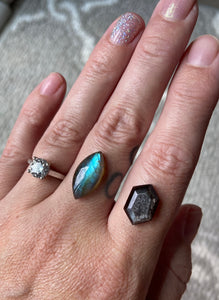 Please do not purchase unless you are the intended client, thank you! 

Deposit on 2 handmade sterling & fine silver rings: 
Labradorite set with a decorative border atop a paisley band. Estimate: $110-$115


Silver sheen Obsidian in a hexagon cut set in a crisp bezel with a split shank dotted ring band. 
Estimate: $115-$120 
*Both rings size 7.5 
Deposit: $50. Remainder upon completion.